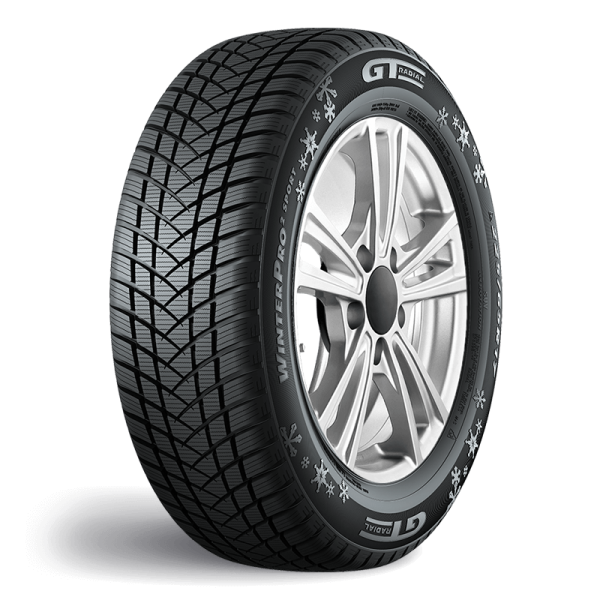 Winterpro2 Sport SUV
The winter companion for powerful SUVs
The Winterpro2 Sport SUV is the new GT Radial winter tyre for latest perfomance SUVs, brings high levels of grip on wet and snowy roads, and delivers exceptional driving pleasure.
All the advantages Properties and use
Large shoulder blocks and multi T-bars
Stability and stiffness for high speed precision. large, wide blocks on the outside shoulder increase the contact area, ensuring a larger footprint for maximum control and steering precision while cornering on dry roads.
Four ultra-wide grooves
Fast water evacuation for firm braking
Scimitar shapedirectional profile with razor sharp edges
Grip on snow and wet road
Performance figures Performance clearly defined
EU TIRE LABEL
Tire size
Load capacity
Speed
Load class
215/60R17
96
H
SL
3PMSF
C
B
70
B
215/65R17
99
V
SL
3PMSF
D
B
70
B
225/60R17
99
V
SL
3PMSF
C
B
70
B
225/65R17
106
H
XL
3PMSF
C
B
70
B
235/55R17
103
V
XL
3PMSF
C
B
71
B
235/50R18
101
V
XL
3PMSF
C
B
71
B
235/55R18
104
H
XL
3PMSF
C
B
71
B
235/60R18
107
V
XL
3PMSF
C
B
71
B
235/55R19
105
V
XL
3PMSF
C
B
71
B